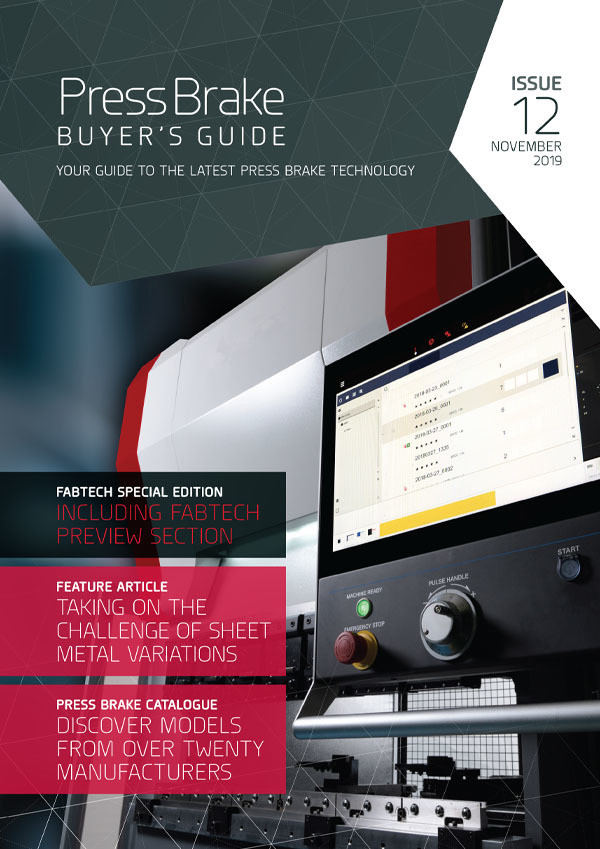 Issue 12: FABTECH 2019 Special Edition
In this issue;
FABTECH Preview. Discover all our partners and press brakes on display at FABTECH 2019.
Get Connected with TRUMPF at FABTECH. All of the latest offerings from TRUMPF's innovative fabricating machinery portfolio will be on display.
Taking on the challenge of sheet metal variations. BendVision technology provides press brake manufacturers with an economical solution for measurement-controlled bending.
Cincinnati Incorporated to showcase new machines and Hendrick Motorsports partnership at FABTECH. Hendrick Motorsports, 12-time NASCAR Cup Series champions, recently welcomed CI as an official partner.
MC Machinery Systems presents ADIRA and MURATA press brakes at FABTECH. MC Machinery aims to lead the way in press brake technology by partnering with two of the world's best- in-class press brake manufacturers. On offer is a wide range of hydraulic, hybrid and electric models.
VICLA - Only the best. Italian press brake manufacturer VICLA offers a wide range of flexible solutions, all engineered with the aim to optimise the production. VICLA will display their .SUPERIOR hybrid press brake at FABTECH.
Press Brake Catalogue. Our new catalogue section presents a range of press brake models and specifications from our manufacturing partners.