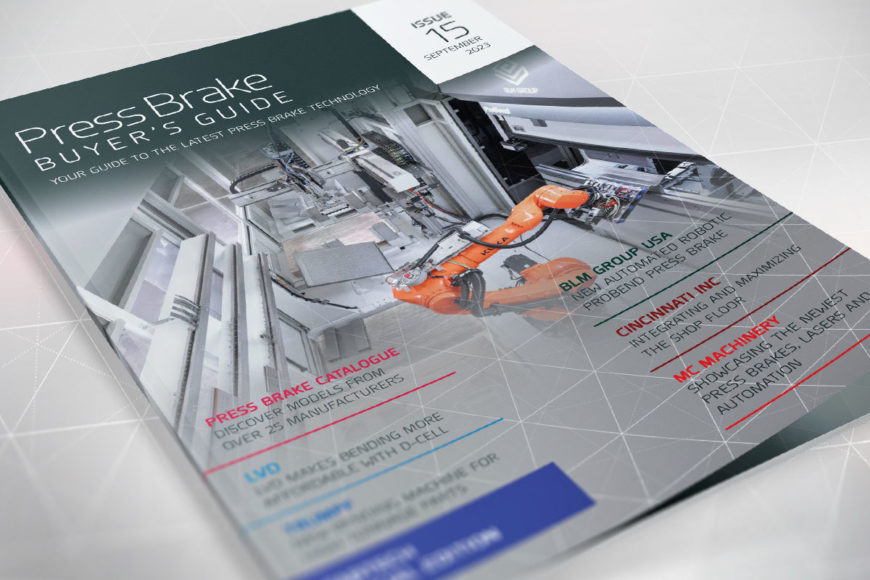 In this issue
CINCINNATI at FABTECH 2023: Integrating and Maximizing the Shop Floor
Discover CI's innovative press brake series, the latest in bending, welding, and laser cutting along with demonstrations of the company's fully integrated manufacturing process.
New TRUMPF bending machine for large and high tonnage parts now available in North America
With a 34-inch open height and a stroke of 27 inches, the TruBend 8000 bending machine offers a highly efficient way to bend very large parts, allowing workers to easily bend and remove workpieces that require a large box height.
BLM Group announces new automated robotic ProBend press brake
The ProBend Compact Cell, featuring the ProBend E-Series 205-60 and 30kg Robot, has the flexibility to process a wide variety of part sizes from 4" x 3" up to 24" x 32" and 33 lbs.
LVD makes bending automation affordable with D-Cell
LVD introduces D-Cell, its most competitively priced robotic bending cell yet. D-Cell makes robotic bending an easy choice for sheet metalworking businesses of all sizes and capacities.
MC Machinery to showcase newest press brakes, lasers and automation systems at FABTECH
MC machinery presents the Mitsubishi Diamond Series electric and hybrid range of press brakes, robotic bending cells and automatic tool change solutions, plus the ADIRA PA Plus hydraulic press brake.
Prima Power at FABTECH 2023
Prima Power offers integrated automation solutions designed to meet customers' current challenges and future growth, based on high-performance machines that deliver dynamic, precise execution.
ACCURL launches a new electric press brake with IRIS PLUS BendVision technology
ACCURL, a leading manufacturer of sheet metal machinery, has recently launched the eB Ultra, a 100% electric press brake that boasts cutting-edge technology and a user-friendly interface.
Salvagnini P-Robot debut at FABTECH
Salvagnini introduces P-Robot, a new application which combines a panel bender with a robot to produce kits, batches and single parts autonomously.
Knowing where things are: TRUMPF launches new tracking software for manufacturing
New tracking software from TRUMPF Tracking Technology locates all objects whose markers are compatible with the open industry standard "omlox".