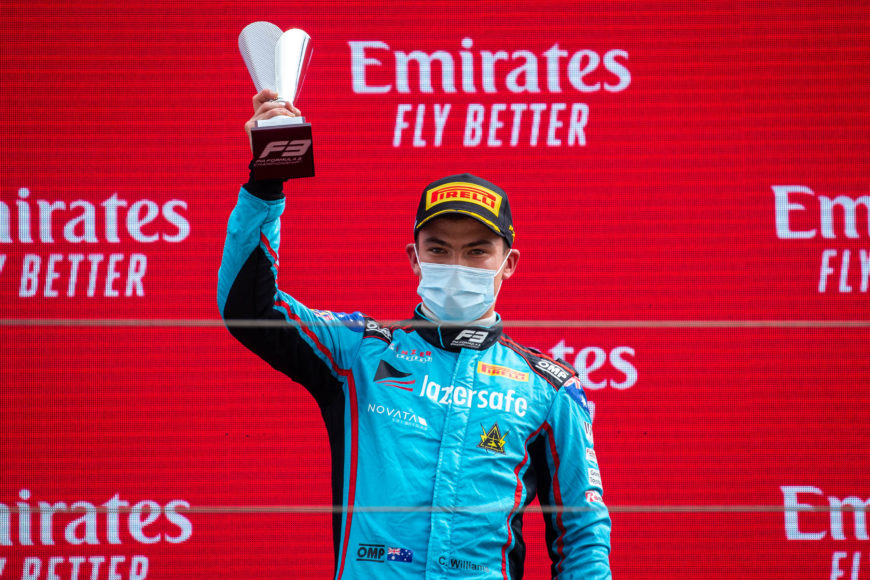 ---
In fine and warm conditions, Calan would start from Pole Position as a result of the reverse top 12 format for Race 1 in the FIA Formula 3 Championship. Off the line Calan got away to a great start pulling away to a 0.8 sec lead before DRS was enabled. He maintained the lead until lap 7 when Logan Sargent managed to make the move into the chicane on the back straight to take the lead. Calan fought back and narrowly missed taking back the lead.
Strong headwinds down the length of the back straight magnified the effect of the tow and DRS for following cars, which would ultimately lead to arguably the most exciting FIA Formula 3 race of the modern era.
For the remainder of the race the top 5 were nose to tail and Calan frequently defended and attacked to maintain his position.
Calan stayed in the front group and defended well and made a great move on Sargent to take back 4th position lap 17 of the race with 3 laps to go.
Sargent was well placed behind Calan to make a move into the second last DRS zone, but Calan defended aggressively and built enough of a gap to be clear for the final DRS zone of the race.
In 4th place in the lead group, Iwasa ahead received a 5 sec position for gaining an advantage for exceeding track limits. The team had relayed this information to Calan, and he therefore resisted the temptation to make a move on him in the final lap.
The final result was 3rd place and Calan's first podium in the FIA Formula 3 Championship.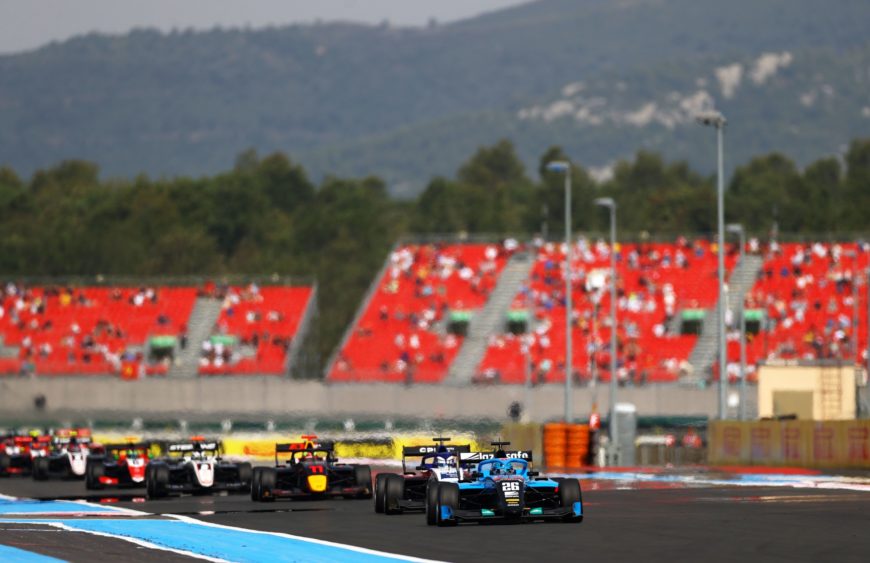 In Race 2 Calan made a good start out of P10 to gain two positions in the first part of lap 1, before being boxed out of position late in the lap to complete it where he started in P10. On the back of the cars ahead, he built a healthy gap to those behind breaking DRS behind him early in the race.
On lap 4 Calan made an impressive move on Juan Correa into turn 5 to then move up to P9. A change in wind direction no meant that DRS and the tow were having less of an impact than Race 1.
With the race settling with a train of four cars in positions 6,7,8 and 9 Calan looked after his tyres well and in the last two laps made multiple attacks on Iwasa before making a move into turn 1 to take 8th position on lap 19. The battle was fierce for half a lap to make this move stick, but he eventually broke free of Iwasa to finish P8 and take more valuable points.
"Today was incredible, my first podium and two solid finishes in the points. I take a huge amount of confidence from today's performance, and I look forward to many more days like this," said Calan.
"The team have done a great job with the car all weekend. We start from 12th tomorrow and I'm looking forward to another fight through the field."
"I feel like I've improved a lot over the past few weeks and also the team and the mechanics who all work incredibly hard."
"Really happy with the result, really happy for the team."
"This is as much for the team, and my parents who work increadibly hard and for all of my investors and sponsors."