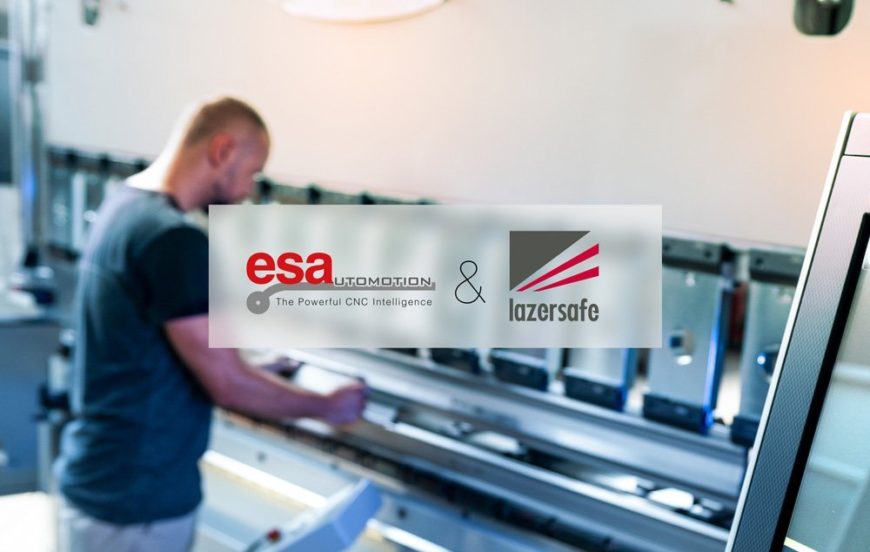 ---
Designed for the safety of those who work press-bending machines
PCSS is the acronym for Programmable Control & Safety System. Designed to work in perfect integration with the Esautomotion VIS-600 CNCs and future VIS-800 CNCs, this controller guarantees manufacturers of press brakes an optimal combination of functionality and performance: the process and automation design of the various functions of safety and protection is greatly simplified, reducing production times and costs.
All the security in one device
The PCSS-ESA controller contains all the control and protection systems necessary to guarantee the operator's safety in all circumstances: the need to resort to external suppliers for software or other components is thus eliminated, with the consequent zeroing of any incompatibility or calibration problem.
The simple and intuitive user interface offers, as per the Esautomotion tradition, an intuitive and comfortable user experience, with quick access to all the machine setting features at a safety level.
The PCSS-ESA safety pack includes the safety PLC, 2 special LZS-ESA optical devices plus mounting brackets (optional).

Main technical features:
Interface and operation 100% integrated with ESA VIS-600 and VIS800 CNC.
Simplified management of the safety elements of the press brake, including control and monitoring of valves, foot control, manual controls, emergency stop, switches for side and rear gates, level switches, etc.
Management, control, muting and monitoring of the optical protection system.
Double optical protection support. Optical protection LZS-ESA and third party light curtains can be installed on the same machine.
Connects to Y1 / Y2 linear scale for automatic speed and stop performance monitoring.
Hardware and software certified CE SIL 3 TUV Austria, ANSI B11.3-2012, CSAZ142-10, NR12
The PCSS-ESA safety controller will be distributed by Esautomotion in China, India and Turkey.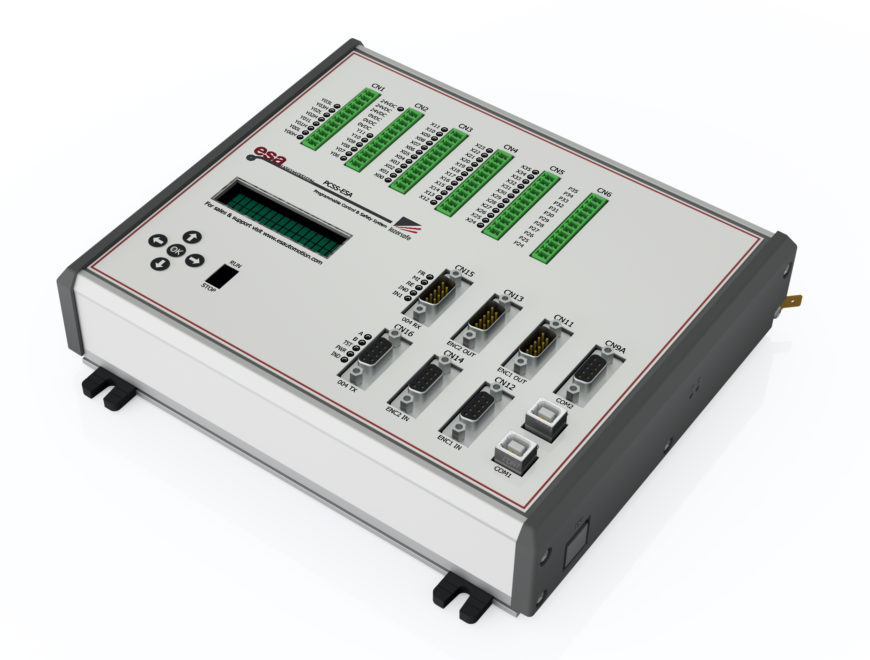 Who is Lazer Safe
Based in Malaga, Australia, Lazer Safe is a Hi-Tech company specializing in the development and manufacture of control, safety and operator protection technologies for press brakes and machines related to sheet metal working. Thanks to constant technological progress, Lazer Safe safety controllers have become the reference standard of the world's leading manufacturers. Today Lazer Safe is a large international company whose main export markets include Europe, North America, Japan and China.
"We are truly enthusiastic and proud for the start of this commercial collaboration with Lazer Safe" – said Andrea Senzolo, World Sales Manager of Esautomotion – "Lazer Safe is certainly the world No. 1 in advanced safety systems. The characteristics and coverage of our distribution network in China, India and Turkey are ideal for obtaining important sales results: these countries are characterized both by the presence of small OEMs and by a growing attention to the safety of the machine operator, a critical issue in the case of press brakes. Local products are often not very advanced and not so reliable: we therefore believe that there is a large market space for a qualitative and reliable product such as the new PCSS-ESA "
"We are happy to start this commercial partnership with Esautomotion" – commented Rob Appleyard, Managing Director of Lazer Safe – "We are really impressed for the quality of Esautomotion CNCs and for their commercial dynamism. We believe it is the right partner to penetrate product segments and markets in which we are not very present at the moment. The new PCSS-ESA was born with this philosophy: in it we have transferred the best of our know-how for a target of medium-small size but with great potential ".
"We know and appreciate the high technological level of Esautomotion CNCs, with which we have had constant relationships for years" – added Ian Costley CA, Director of Lazer Safe – "We worked a lot with their R&D Dept. to maximize integration between safety controller and CNC. We are very pleased with the result of these joint efforts. The combination CNC Esautomotion / Controller PCSS-ESA is the best that can be found today in terms of safety, reliability and efficiency of a press brake ".